An upscale lifestyle is par for the course when you invest in luxury real estate in beautiful Summerlin.
A stunning master-planned neighborhood located in sun-drenched Southern Nevada, Summerlin is known for its breathtaking desert and mountain views, thriving economy, and incredible, world-class attractions.
Here is everything you need to know about this beautiful community.
What's inside
Summerlin at a glance
Real estate in Summerlin, NV

What is the market like?
Home values
Architecture and features

Where can you buy the best luxury properties in Summerlin?
What's great about living in Summerlin?
Investing in Summerlin, NV luxury properties?

Summerlin has commercial and governmental developments that investors can benefit from

Get your very own luxury home in Summerlin today
Summerlin at a glance
History
Summerlin's history goes back to 1952, when American industrialist and business magnate Howard Hughes bought about 25,000 acres of land in the Western rim of Las Vegas Valley.
Originally meant to house Hughes' business empire, the land would remain untouched and unused for about three decades after Hughes ultimately decided to cancel his planned relocation from California.
It was only in the late 1980, that the Summa Corporation — a holding company founded by Hughes to manage his business interests — announced its decision to use the land for a master-planned community: Summerlin.
More than 30 years since its inception, Summerlin has since become an enclave of luxury living, considered by many to be one of the best places to live in Las Vegas.
Location
Now serving as home to over 100,000 residents, Summerlin is bordered by Spring Mountains and Red Rock Canyon to the west. A part of it is located within the official city limits of Las Vegas, while other sections are located within Clark County's bounds.
Located just 10 miles from Downtown Las Vegas, Summerlin is served by State Route 613, which connects Clark County Route 215 to U.S. Route 95.
Weather
Summerlin has a desert climate, but because of its elevation (it is located about 3,500 feet above sea level), the community enjoys slightly cooler temperatures compared to places like the Strip or Downtown Las Vegas. In the summer, it can get hot and dry with temperatures known to exceed 100 °F. In the spring and fall, however, the weather becomes milder, with daily highs ranging in the 70s and 80s. Winters are cool and windy.
Its location in the Mojave Desert also blesses Summerlin with an abundance of clear skies and sunshine. On average, the area gets about 310 days of sunshine per year.
Real estate in Summerlin, NV
What is the real estate market in Summerlin like?
One of the most affluent communities in the state of Nevada, Summerlin is split into three associations: North, South, and West. In total, these three associations oversee more than a dozen residential villages in the area.
These residential villages include the following:
The Arbors
The Canyons
The Cliffs
The Crossing
Discovery
The Gardens
The Hills
The Hills South
The Mesa
The Paseos
The Pueblo
Ridgebrook
The Ridges
Siena
South Square
Stonebridge
Summerlin Centre
The Trails
The Vistas
The Willows
These residential villages are made up of individual subdivisions and communities, with each one known for catering to different segments of Summerlin's overall population.
Because of Summerlin's inherent allure, the community has a competitive real estate market. Homes for sale in Summerlin are known to get multiple offers as well as sell for about 2% above list price. These properties typically stay on the market for an average of 31 days before going under contract.
Luxury homes for sale in Summerlin include large private estates and townhomes, most of which offer stunning mountain, desert, city, and golf course views. Luxury bungalows and condos also dot the area, offering a smaller — yet no less luxurious — option to buyers.
Best of all, there is still plenty of room for future development as Summerlin is still very much a growing community.
Home values in Summerlin
At present, homes for sale in Summerlin generally sell for a median price of $531,750. Prices for luxury homes for sale in Summerlin, meanwhile, usually start at $1,400,000, although some properties are known to fetch prices of up to $23,000,000, depending on their size, features, and location. Luxury rental units in Summerlin, on the other hand, can be had for about $900 to $2,000 per month.
Architecture and home features
Summerlin homes for sale are usually built in an impressive variety of architectural styles. These include Prairie, Craftsman, and Farmhouse, all of which are meant to complement the community's desert location. Other architectural styles that can be seen in Summerlin include Desert Contemporary, Spanish Colonial, and Mid-Century Modern.
Luxury homes for sale in Summerlin are known for having features such as the following:
Open floor plans
Large living spaces
Modern and fully-furnished kitchens
Spa-quality bathrooms
Large and spacious bedrooms
Dedicated home offices
Media rooms and home theaters
Separate guest houses and studios
Multi-car garages
Swimming pools
Outdoor spaces
Aside from that, luxury homes for sale in Summerlin are famous for providing easy access to some of the most exclusive country clubs, parks, and other amenities and attractions in Las Vegas Valley.
Where can you buy the best luxury properties in Summerlin?
While luxury properties can be found everywhere in Summerlin, you can find the very best in the following neighborhoods.
`
Bellacere
A gated community located in The Canyons village of Summerlin, Bellacere is famous for its tree-lined streets, luxury estates, and proximity to The Badlands Golf Club.
Bellacere is noted to be one of most exclusive communities within Summerlin. There are only 55 homes in the neighborhood, all of which were built by renowned luxury developer Christopher Homes. Lots and home sizes from half an acre to more and up to 16,000 square feet of living space, respectively. Most, if not all, are Mediterranean inspired and built between 2001 and 2005.
Due to the limited housing stock and exclusive nature of the area, luxury homes for Bellacere can fetch for anywhere between $1,270,000 to $4.1 million.
Canyon Fairways
Also located in The Canyons village is Canyon Fairways, best known in Summerlin for its custom golf homes. Behind its iron gates, you'll find a grand total of only 150 luxury properties, offering between 4,000 to 7,000 feet of living space.
Homes in Canyon Fairways were built sometime between the late 1980s and 2000s, with the newest properties finished in 2004. There's a great mix of architectural styles in the neighborhood, from rustic and regional Santa Fe to clean Contemporary.
Canyon Fairways is perfect for sporty residents, given its close proximity to the acclaimed TPC Golf Course, designed by none other than Raymond Floyd, a former PGA champion. And at the heart of the neighborhood is a six-acre park and basketball and tennis courts. Prices for homes in the area typically range from $950,000 to over $3.7 million.
Canyon Gate Country Club
Spacious homes, plenty of outdoor space, and complete privacy are three of the things you'll enjoy at Canyon Gate. This guard-gated community in Summerlin covers approximately 320 acres, and spread across are a great selection of semi-custom and luxury homes in 1-acre lots.
You'll be spoilt for choice when it comes to housing options at Canyon Gate. Home sizes range anywhere from 1,700 square feet to palatial 17,000 square feet. Most of these properties, which were built between the late 1980s and early 1990s, are Mediterranean-inspired, influencing the overall color palette of the community: beige, soft pinks, and warm whites.
A true-blue golf community, Canyon Gate also features its own private course designed by acclaimed architect Ted Robinson. It's just one of the many reasons why luxury homes for sale in this part of Summerlin range in price from $545,000 to $6.5 million.
Corta Bella
Located in The Hills South village of Summerlin, Corta Bella is best known for its selection of stunning and spacious homes, most of which were built in the 90s by luxury developer Coleman Homes, better known today as Toll Brothers.
There are over 120 custom homes in Corta Bella, ranging in size from 2,346 square feet to 4,148 square feet. Most of these properties have a distinct European feel, although Corta Bella also offers fine samples of Santa Barbara Coastal architecture. And since they are perched on higher grounds overlooking the TPC Golf Course, you can enjoy unobstructed views of the emerald fairways and the rugged landscape beyond.
Homes for sale in Corta Bella range in price from $679,000 to $1.2 million. From here, you're a hop and skip away from West Lake Mead's shopping and Bruce Trent Park.
Eagle Hills
A guard-gated community, Eagle Hills is located in Summerlin's The Hills village, and is noted for its selection of spacious, custom-built luxury houses and upscale amenities.
There are only 60 homes in Eagle Hills, most of which were built in a contemporary style between 1995 and 2000. Sizes from 2,924 square feet to 11,225 square feet in spacious lots. These luxury properties are also known for their spacious bathrooms, gourmet kitchens, and other upscale features. Eagle Hills' enviable location near the TPC Golf Course makes it especially sought-after among luxury homebuyers.
Because of their size, quality, and location, homes for sale in Eagle Hills tend to fetch prices of up to $2.8 million and more.
Eagle Rock
Located in The Canyons community in Summerlin, Eagle Rock features gorgeous luxury houses tucked away in tree-lined streets by lush greenery.
Eagle Rock's 145 homes range from 2,775 square feet to 5,147 square feet in size, with some properties even boasting detached guest casitas and spacious gardens. They were built from the late 1990s to the early 2000s.
Homes in Eagle Rock typically sell for around $835,000, although some properties can fetch prices of over $1.8 million.
Mountain Trails
A small, yet luxurious community in Summerlin's Trails Village, one of Mountain Trails' most noteworthy features is its collection of impressive luxury homes on large lots. There are about 100 of these custom properties built in half-acre lots (or larger), built between 1995 and 2008. Home sizes range from 3,758 square feet to 13,106 square feet.
Mountain Trails is located close to Summerlin Parkway, which means that world-class shopping and dining is well within reach for its residents. Furthermore, some of Summerlin's top schools are nearby, including Palo Verde High School and Meadows Private Schools. Another lifestyle perk is that Mountain Trails is close to several golf courses and outdoor recreational areas.
Homes for sale in Mountain Trails have an average list price of $1,820,000, although some of the bigger properties can fetch prices of up to $10.9 million.
Palisades
Located adjacent to the TPC Golf Course, you can say that Palisades is the quintessential golf community. This exclusive, guard-gated neighborhood is among the smallest in Summerlin and features 130 stunning houses built by esteemed luxury property developer Christopher Homes. These homes were built from 1998 to 2002.
Homes in the neighborhood are incredibly spacious, and are situated on ¼ acre and ½ acre lots, thus ensuring plenty of outdoor space for homeowners. And speaking of the outdoors, you'll find plenty of relaxing green spaces throughout the neighborhood. There are several pockets of lush calm throughout Palisades. In fact, Palisades feels very much like a private park.
Homes in the Palisades can be bought for anywhere between $1,250,000 and $1.9 million.
Queensridge
Right from the get go, you'll know you have arrived at Queensridge. Regal horse statues flank the gates of this upscale, guard-gated community. Past the entrance, you'll find an incredible array of custom luxury abodes, from townhomes to expansive properties with coveted golf course frontage.
The entire neighborhood of Queensridge is bisected by Badlands Golf Course and is divided into smaller sections. Tudor Park looks like it jumped straight out of an English picture book with its European-inspired single-family homes. Meanwhile, Fairway Pointe features townhomes and golf course views. The center of social life at Queensridge is Boca Park, where you can find some shopping and dining options.
Depending on their size and features, homes in Queensridge can be bought for as low as $900,000 or as high as $16 million.
Red Rock Country Club
A 738-acre guard-gated residential village, Red Rock Country Club is famous for its luxury homes, championship golf courses, and stunning mountain views.
Located just 15 miles away from The Strip, Red Rock is home to some of the most elegant houses in Las Vegas, which can be bought at prices ranging from $900,000 to $5.4 million.
What's great about living in Summerlin?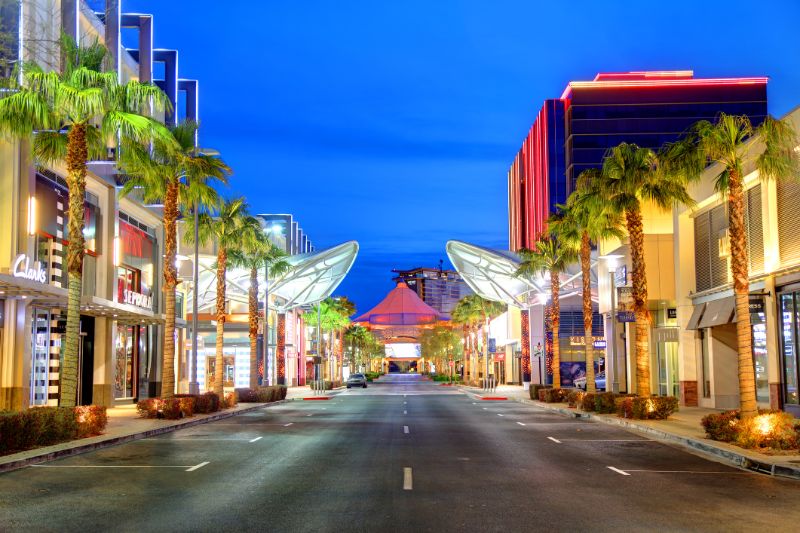 There is no shortage of outdoor activities in Summerlin
Summerlin is the perfect neighborhood for outdoor enthusiasts. Not only does Summerlin offer easy access to Red Rock Canyon, the community is also home to no less than 10 world-class golf courses, 250 parks, and 150 miles of outdoor trails.
Summerlin is a hotspot for culture and the arts –Ballets, musicals, theater plays, and concerts are at an arm's reach at Summerlin, which is home to the Donald W. Reynolds Cultural Center and the Summerlin Library and Performing Arts Center.
Can't get enough of live performances? Summerlin is just a few miles away from Downtown Las Vegas and its impressive selection of performance spaces such as The Smith Center for the Performing Arts, the Tuacahn Amphitheater, and much more.
Summerlin is a foodie and shopper's paradise
It sounds too good to be true, but Summerlin's residents can enjoy exceptional dining and shopping options — all without needing to travel into the city of Las Vegas.
This is all thanks to the 400-acre Downtown Summerlin area, which is home to an astounding number of restaurants like the following:
Some of the shops in Downtown Summerlin include the following:
Investing in Summerlin, NV luxury properties?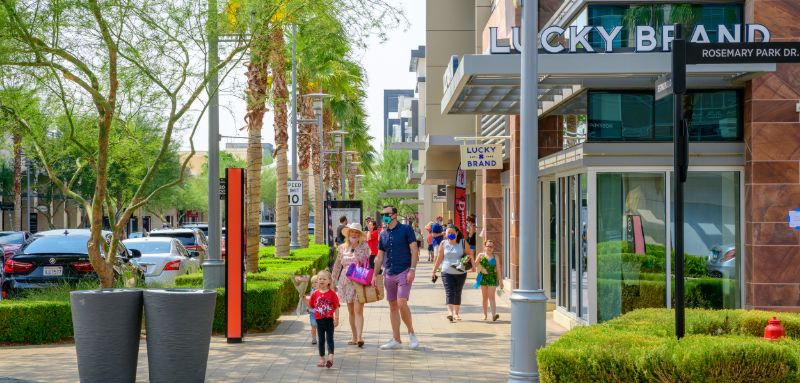 With its laid-back atmosphere, upscale amenities, gorgeous views, and proximity to Downtown Las Vegas, Summerlin is a highly appealing community for home buyers and investors alike.
Summerlin has commercial and governmental developments that investors can benefit from
Tax benefits –Nevada is known for being a tax haven because of its many tax benefits. This includes the non-collection of state and corporate income tax and low property taxes. Not only that, but Las Vegas is also known to offer incentives such as deductions on property and real estate taxes to investors who purchase homes in the city.
A strong rental market –Given the community's proximity to major commercial centers, tourist destinations, and military bases, Summerlin has a very competitive rental market. Because of this, investors can expect to make significant returns on their investments once they convert their properties into rentals.
A robust economy –Las Vegas — and by extension, Summerlin — has a very robust, stable, and resilient economy. This makes the area attractive to investors from all over the country.
Get your very own luxury home in Summerlin today
If you're planning on investing in Summerlin luxury real estate, don't hesitate to give Michelle Sullivan a call.
A certified luxury home expert, Michelle can guide you through Summerlin's luxury real estatemarket, helping you make sound investments in the surrounding area along the way.
For more information, contact Michelle today at 702.860.8995 or send her a message at ms(at)msluxuryhomes(dotted)com. You can also visit her website to see her listings of Summerlin homes for sale.